From the publisher's website: his collection of chilling ghost stories tells of apparitions, manifestations and strange happenings in Neath's streets, cemeteries and alehouses. From tales of ghostly Arthurian Knights slumbering peacefully under a mountain to mysterious lights in the night skies, the author has collected these stories over a period of forty years, and many have never previously been published.
 Some of the spirits contained within are helpful and kindly, such as the mysterious fisherman who rescued a drowning man off Morfa Beach, whilst others are malicious and destructive, like the poltergeist that terrified a mother and a young son in their own home. Other tales are almost unbearably sad, including the apparition of a young woman who hanged herself after being jilted by her lover.
SPR Review:
Robert King is a local historian in an area with a lot of history, and Amberley have already published his Neath Through Time, while a rival publisher produced King's first effort in the paranormal field, Haunted Neath, in 2009.  Here he presents a further collection of stories old and new originating in Neath and its environs.  It is divided into sections on 'houses and buildings', both grand and humble; 'streets and roads', including a haunted bridge; pubs of course, including the Duke of Wellington, whose resident ghost was caught on video in 1993 and broadcast on Robert Kilroy-Silk's BBC chat show; animal hauntings; graveyards; and miscellaneous.  Locations are not listed separately.  Like all the books in this series it is well illustrated, the author having included a selection of his snapshots.
Many of the accounts were collected as a result of talks the author gave to local groups which are, as he acknowledges, an invaluable source of information.  The area's industrial heritage emerges as a recurring theme.  Mining, an industry, now vanished from the area, has a strong element of folklore associated with it, and a there is also a story from an ironworks.  Neath Abbey has a ghostly connection to King Edward II.  He took refuge there, but was betrayed after he left, it is said by one of the brothers, and died in murky circumstances at Berkeley Castle.  The traitor is supposed still to wander the ruins, seeking absolution.  The most unusual ghost described supplied a couple in straightened circumstances with cash, over £1,000 in total which, as the husband put it, "got us out of a lumber".  One wonders if they declared the ghost's largesse on their income tax return, and if so how they described it.  The cynic might consider it more likely to have been a money laundering scheme than paranormal philanthropy.
There are a couple of accounts of ghosts being seen with the lower portions of their limbs invisible, presumably as they travel at the level the ground would have been at during their lifetimes, which is lower than at present (the most famous example of this phenomenon being the Roman soldiers at York's Treasurer's House).  This might answer the old question about why we never see the ghosts of dinosaurs: under out feet is an entire ecology of long-gone people and animals, walking around within the earth.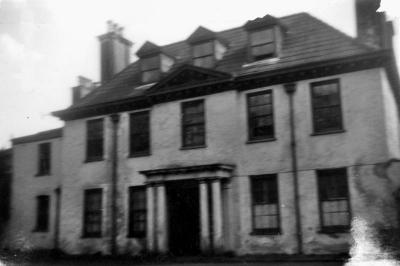 Cadoxton Lodge, courtesy of Amberley Publishing
One of the most interesting sections from the perspective of the SPR probably does not actually feature anything paranormal at all.  Cadoxton Lodge was once home to Winifred Coombe Tennant who, among many other significant achievements, practised as a medium under the pseudonym Mrs Willett and was connected to the SPR's 'inner circle' by marriage: her husband Charles's sister Eveleen married Frederic Myers, one of the founders of the SPR.  King's information is slightly out of date here, because he considers a bizarre scheme to produce a 'spirit child' which would facilitate world peace to be merely an unproven rumour.  In fact, as the late Archie Roy showed in his book The Eager Dead, the Plan, as it was called, really was put into effect.  Gerald Balfour (SPR president 1906-7) fathered Winifred's child Augustus Henry, born in 1913.  Unfortunately Henry did not become a Messiah, though he did become a monk.  King crept into the empty Cadoxton Lodge as a boy in 1960, not knowing its history, and was scared by the sound of a window slamming and breaking, though he had not seen one that was open.  Another SPR figure with a connection to Neath, but not mentioned in the book, was H. H. Price (1899-1984, not to be confused with Harry Price), who was Wykeham Professor of Logic at Oxford, and SPR president 1939–40 and 1960–1.
Robert King has put together an enjoyable book, and the inclusion of often quite long personal accounts given to him by witnesses makes it all the more interesting.  These anecdotes may not be valid as evidence, but they are sincerely given, and reflect the tellers' puzzlement at the strangeness that touched their lives and which left on them such an indelible impression.
Reference Information:
Ghosts of Neath. Amberley Publishing, October 2012. ISBN 9781445602462