Paranormal Review
Paranormal Review, 87 (Summer 2018)

It is always satisfying to do a retrospective of a great psychical researcher's life and work, and Guy Lyon Playfair's contributions to the field were many and of lasting importance, but it is a satisfaction tempered by sadness and an awareness of loss. Although I corresponded with Playfair, I never met him and regret not having had the opportunity to do so. This reinforces in me the awareness that the magazine plays such a crucial role in documenting the Society for Psychical Research. Recently, when researching its history for my next book, I found that it was often the marginal things – the minutes of meetings, announcements of events and obituary notices – that gave an insight into the activities of the Society and the lives of its members, more than the theoretical speculations and statistical analyses. Should this be the case? We could do more to record the heartbeat of the Society while it is still beating, for it is this that will engage our members today and inspire our future members tomorrow. We must document or disappear.

Even as some things end, others begin anew and in this issue I am pleased to welcome Prof. Chris Roe as the incoming President of the Society for Psychical Research and thank Prof. John Poynton for his leadership at a time when the Society faces many challenges. Prof. Roe has assured me that he will continue the tradition of writing a President's Letter for the magazine and I am sure that, like me, you are looking forward to reading his thoughts and suggestions for our discipline.

I am also delighted to welcome a new contributor to the magazine, Dr Richard Sugg, thoughtfully introduced to me by Robert Charman. Dr Sugg will begin his new column, 'Paranormal Report', with the first part of an article examining an ongoing poltergeist case. It is a fitting contribution to this issue given the key role of a poltergeist case in another researcher's career.

Finally, I would like to draw your attention to the extension of the deadline for the Paranormal Review Photography Competition to 31 October, appropriately enough.
Dr Leo Ruickbie
Editor
Paranormal Review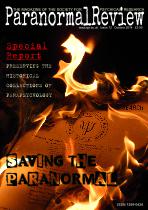 The Paranormal Review is the magazine of the Society for Psychical Research. With cutting-edge articles and features, readers' letters, personal experiences, notices, reports and announcements, the magazine provides a forum for debate on psychical research, parapsychology and related areas, and stimulates new research through special themed issues. It is printed in full colour and fully illustrated, often publishing photographs seldom or never before seen. It frequently carries offers only available to readers. Priced £5 per issue or £20 per year (including P&P in the UK). Members receive the Paranormal Review free of charge as a benefit of membership.
Back Issues (Contents lists)
Guy Lyon Playfair - Paranormal Review, 87 (Summer 2018)

Back to the Past - Paranormal Review, 86 (Spring 2018)
Back to the "Lilly" Pond - Paranormal Review, 85 (Winter 2018)
The Art of the Impossible - Paranormal Review, 84 (Autumn 2017)
Ghost Hunting Part 2 - Paranormal Review, 83 (Summer 2017)
Ghost Hunting Part 1 - Paranormal Review, 82 (Spring 2017)
'Just One of Those Things' - Paranormal Review, 81 (Winter 2017)
'Parazoology' - Paranormal Review, 80 (Autumn 2016)
'Conjuring Up Enfield' - Paranormal Review, 79 (Summer 2016)
'Tanous' - Paranormal Review, 78 (Spring 2016)
'Bring on Your Ghosts!' - Paranormal Review, 77 (Winter 2016)
World War I and the Paranormal, Part 2 - Paranormal Review, 76 (Autumn 2015)
Kai Mügge - Paranormal Review, 75 (Summer 2015)
Fall of the House of Felix? - Paranormal Review, 74 (Spring 2015)
Possessed Science - Paranormal Review, 73 (Winter 2015)
Saving the Paranormal - Paranormal Review, 72 (October 2014)
World War I and the Paranormal, Part 1 - Paranormal Review, 71 (July 2014)
SPR Members can log in to download complete issues