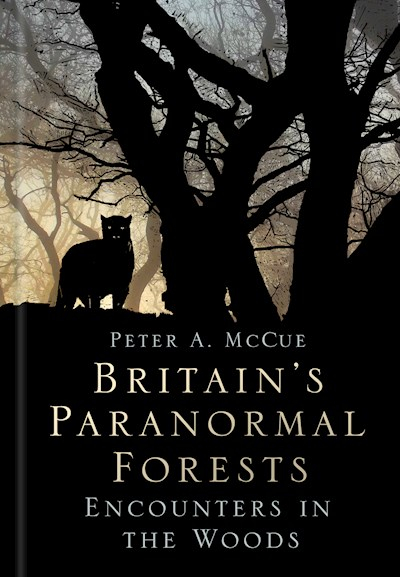 Publication Details
The History Press, ISBN: 9780750991339
Reviewed by Ciaran Farrell
Dr. Peter A. McCue is a retired clinical psychologist who has written a number of books over several decades about the paranormal. Peter takes a broad view of paranormal phenomena, however, the main focus of his writings are UFOs. He also considers events and experiences that occur with or alongside UFO sightings. His latest book, Britain's Paranormal Forests: Encounters in the Woods, is a follow-up to his previous book, Paranormal Encounters on Britain's Roads: Phantom Figures, UFOs and Missing Time reviewed on the SPR website by Chris Jensen Romer.
There is a short and very interesting Foreword to Peter's book by Dr. Rob Gandy, Visiting Professor at Liverpool Business School, who is a regular contributor to Fortean Times, in which he confirms Peter's position on the paranormal as being a believer which is Peter's own stated position.
Peter takes the approach of an investigative journalist and writes in a clear and open style that is easy to read. He has spent a lot of time and effort collecting a number of interesting and some well-known (primarily UFO) cases. He has supplemented these by many brief reports of events and sightings of unusual animals, including big cats, Big Foots, and other cryptozoological creatures. In addition, some cases concern ghost sightings and poltergeist activity.
The introduction to Peter's book is a very useful and informative guide to the various different types of phenomena and the terminology used in the discussion of them within his book and the field of the paranormal in general. This serves as a good introduction both for the reader who may be new to the field, as well as constituting useful revision for the more accomplished reader or paranormal investigator as there are some valuable insights to be gained from Peter's long experience as a writer and investigator.
The perspectives and insights in Peter's introduction are supplemented by his concluding chapter, Reflections and Speculations (rather the conclusions), in which he introduces some more relevant material from the USA, and continues with reflections on the cases and material he has presented in his book together with his theories about the paranormal.
Peter presents the cases in his book in the form of narratives which includes accounts by the people who originally experienced the events. He gives a brief and informative introduction to each case, and then goes on to give the reader an appraisal of those events from the different perspectives of others who might have been involved in the case, or who may have investigated it. He then gives the reader his observations, comments and analyses of the cases in which he considers different interpretations and explanations for the phenomena.
Peter has taken the time and trouble to personally contact, and if possible interview as many of the people whose experiences he has related in his book as he could. Where he has been able to do so, he has incorporated accounts and witness statements of the same events by different people. It is interesting to compare and contrast the similarities and differences between these accounts. Peter gives us his thoughts on why differences may have arisen when the events concerned were witnessed through the eyes of several different people.
Reading through these accounts in Peter's book brought back to me various conversations I had with a friend of mine who has an interest in UFOs, and is a member of the UFO community, about how one ought to carry out paranormal investigations. His point to me was that credible witness statements by reliable witnesses are not necessarily the 'gold standard'. This is because believers in the phenomena will gloss over any significant differences in witness testimonies, whereas sceptics will use them to dismiss the witness statements concerned and consequently the phenomena. One must find a dispassionate way of taking into account the similarities and differences. There is nothing new about Peter's appeal for tolerance, moderation and open-mindedness. He makes this case well through the narrative of his book which is well supplemented by the inclusion of useful and relevant photographs, maps and diagrams.
There is an extensive chapter on the case of Antony and Doreen Verney at Dargle Cottage in Kent. This involves mixed phenomena, strange unexplained noises and vibrations, lights and UFO sightings as well as other paranormal phenomena.
There is a chapter on the Gorebridge Lights which relate primarily to the village of Gorebridge in Midlothian in East Central Scotland, and the village's history of mining. Peter investigates the history of the sightings of strange lights and noises in the area which he brings right up to the present day through the inclusion of more recent paranormal occurrences.
Then there is a chapter on strange sightings in Cornwall which focusses in on the observation of big cats, owlmen and other strange creatures by various sets of witnesses.
This is followed by a chapter on the Fife Incident which took place in East Central Scotland in the vicinity of Newton of Falkland, which is a hamlet near Falkland Hill, in an area which is also known as East Lomond. This chapter has more of a UFO focus, and is followed by a chapter on Cannock Chase which is known as a Hot Spot for all kinds of strange happenings and occurrences, in which Peter investigates various mixed phenomena. Cannock Chase is a 26 Square-Mile area of woodland and health land of outstanding natural beauty in Staffordshire in the West Midlands of England which incorporates the German Military Cemetery.
These chapters are followed by one mainly about UFO encounters in Dechmont Wood which has its own UFO trail, which in turn serves as a lead into a chapter on Rendlesham Forest. Dechmont Wood is an area of woodland in West Lothian, central Scotland between the M8 motorway and the town of Livingston, and Rendlesham Forest is in the English County of Suffolk.
The Rendlesham Forest incident or more accurately, set of incidents, are often referred to in comparison with the famous UFO sightings and experiences near the American town of Roswell, New Mexico as being Britain's Roswell. Peter takes a broader view of what happened in Rendlesham than just the well-known UFO phenomena and incorporates other paranormal phenomena that occurred in the location or to the people involved in the UFO sightings and incidents.
The penultimate chapter of Peter's book contains briefer reports of all sorts of phenomena across the range of the paranormal.
In conclusion, Peter's book is a good read and therefore a good opportunity for psychical researchers to broaden out their reading in the field of the paranormal to encompass UFO sightings and experiences as well as those of cryptozoological creatures. This is not really a book for the purest in psychical research who may have a primary focus and interest in ghosts, hauntings, and poltergeist phenomena, or those with a particularly spiritualist perspective on the paranormal.