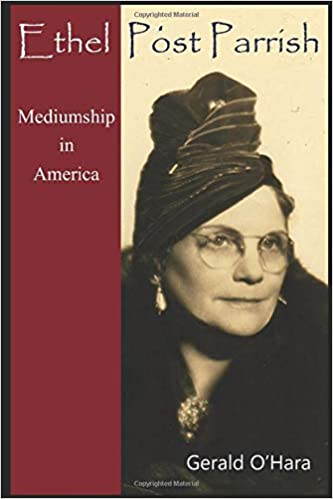 Publication Details
Independently published, ISBN 9798663887489
Reviewed by Brian C. Wilson
Gerald O'Hara's Ethel Post Parrish: Mediumship in America is a welcome addition to the growing historiography of 20th-century American Spiritualism. Born into a family of Indiana Quakers sometime in the 1880s, Ethel Post Parrish was early on exposed to the religion of Spiritualism. Her mother, aunt, and uncle were all members of the Indiana Association of Spiritualists and long active in the administration of the Spiritualist Camp Chesterfield (indeed, Ethel was a cousin of Mable Riffle, famed for her controversial leadership of the Camp throughout much of the 20th century). Not much is known about Ethel's early life in nearby Anderson, Indiana, except that she worked as a milliner and was married twice before meeting and marrying the spiritual healer and "suggesto-therapist" (hypnotist), Myron Post in 1916. Both Myron and Ethel quickly became heavily involved in the life of Camp Chesterfield, moving there permanently in 1923. Myron was ordained a Spiritualist minister and served as Camp President until 1932. Ethel, meanwhile, after giving her first public performances in 1925, soon gained a reputation as "a splendid trumpet and materialization medium" (p. 36), famous for her spirit guides, Sir Joseph Banks and "a beautiful Cherokee Indian girl called Silver Belle" (p. 37). An appendix to the book gives detailed descriptions of some of Ethel Post's more spectacular materializations, although she apparently only submitted once to scientific observation, this by the Ontario Society for Psychical Research in Kitchener, Ontario, in 1933.
Immensely ambitious, Ethel Post eventually began to feel that her success as a medium was being hampered by the limitations imposed on her by Camp Chesterfield, especially by the imperious Mabel Riffle. O'Hara here does a good job discussing the ego-driven tensions inherent in any Spiritualist institution where popular success depends as much on personal charisma and force of personality as it does on mediumistic talent. In 1927, Ethel and Myron headed south to Miami, Florida, where they founded the Spiritualist Temple of Truth as a venue to showcase Ethel's mediumship, and as a school to train and accredit new mediums. Although it was moderately successful, attracting such Spiritualist luminaries as Arthur Ford, it suffered from the limitations of its location, for just as the cold Indiana winters shortened the season at Camp Chesterfield, in this era before air conditioning, the sweltering Florida summers shortened the Miami Temple's season, as séance rooms would become unbearably hot by early day. The Posts therefore took up an offer by one of their congregants, John Stephan, to move their summer operations north to an underused park property in Ephrata, Pennsylvania. Ephrata, which already had a long history with alternative religions, being the site of the colonial-era Ephrata Cloisters, proved to be an ideal place for a new Spiritualist resort. Dubbed Camp Silver Belle by the Posts, it opened to the public in 1932 with hopes that it would soon grow to rival such established camps as Chesterfield, Cassadaga, and Lily Dale.
Over the nearly sixty years that it operated (a remnant closed only in 1991), Camp Silver Belle offered attendees a full daily program of devotion (sermons, lectures, hymn singing, etc.) and practice (séances, billet reading, clairvoyant messages, spiritual healing, etc.). In addition to a stable of local mediums, the Camp also quickly became a stop on the circuits of nationally known mediums such as Arthur Ford, Dr. E. A. Wiggin, Fred Jordan, and Maina Tafe, who was famous for the first-ever séance held in an airliner in flight. Of course, the star was always Ethel Post, whose demonstrations of cabinet manifestations and trumpet readings remained the primary draw of the Camp. She was also the dominant voice in the Camp's magazine, Spiritual Truth. Given her formidable personality, not even a forced move from Ephrata Park to the nearby Mountain Springs Hotel in 1935 dampened the Camp's popularity; in fact, the Camp Silver Belle Association grew to 500 members and attendance quadrupled by the 1939 season. By this time, Ethel had divorced Myron Post and married her musical director, James Mack Parrish. A year later, Ethel also cut her ties with Miami, moving her Temple of Truth to the growing Spiritualist center of St. Petersburg, Florida, home of her friend and colleague, the medium Clifford Bias. For the next 28 years, until Ethel Post Parrish's death of heart disease in 1958, the couple alternated winters and summers between their thriving Spiritualist Church in St. Petersburg and Camp Silver Belle in Pennsylvania.
With Ethel Post Parrish: Mediumship in America, Gerald O'Hara has given us an interesting and detailed look at the career arc of a very successful American medium whose life and work is probably representative of dozens of such figures in mid-century America. The book is especially valuable because O'Hara is attentive to some of the more mundane aspects of such a career, for example, the nuts and bolts of Spiritualist camp organization, administration, and financing. Board politics are prominent in the narrative, as are the salaries for mediums and the prices for specific services, all of which helps the reader to understand better the social dynamics and economics of 20th-century Spiritualism. Moreover, O'Hara also does a good job documenting the impact of outside pressures on the running of Spiritualist camps, particularly "crusading" reporters who, at least during the '20s and '30s, were happy to use the police and the courts in order to file sensational tabloid exposés. While such calculated harassment was disruptive, it did at least reinforce First Amendment protections for Spiritualism, leading to a decline in such legal cases.
Finally, while I recommend Ethel Post Parrish, I would be remiss if I didn't mention a few problems with the work. O'Hara's narrative is somewhat disorganized, and like many self-published books, this one is in great need of a copyeditor to smooth out issues of grammar, punctuation, and format. Nevertheless, such considerations should not deter readers from seeking out this volume, as the author has done considerable original research and has an interesting story to tell, one that definitely enriches our knowledge and understanding of 20th-century American Spiritualism and the personalities behind it.
Brian C. Wilson is professor of American religious history in the Department of Comparative Religion at Western Michigan University.
Editorial Postscript
Fraud at Camp Chesterfield was uncovered by Andrija Puharich in 1960. The articles concerning this were republished in Psypioneer (Vol 4, No. 5). The Psychic Mafia by "M. Lamar Keene" (as told to Allen Spraggett), originally published in 1976, gives an inside view from the perspective of a fraudulent medium. / Nemo C. Mörck