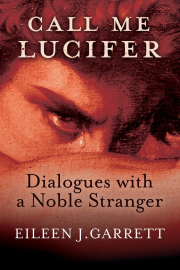 From the publisher's website: Beginning in her early childhood, the world-famous trance medium and grande dame of parapsychology Eileen J. Garrett had numerous encounters with an entity she called the "Noble Stranger." When she asked his identity one day, this mysterious figure responded, "You may call me Lucifer."
Call me Lucifer: Dialogues with a Noble Stranger, features Garrett's writings about her encounters with this Noble Stranger, and reflections on her intellectual "duels with her Devil." The book includes extensive verbatim transcripts of Lucifer's communication with Garrett, together with Lucifer's Compendium of Guidance.
Further information at the publisher's website: Afterworlds Press.
 
Publication Details
Afterworlds Press, ISBN: 9781786771926