From the publisher's website: Country Books/Ashridge Press is a small independent publisher founded in 1985, specialising in local history titles. 
Derbyshire books: Varying in length from one mile to ten, these are leisurely strolls rather than arduous hikes or robust rambles visiting an area that is rich in variety and fantastically spooky stories.  It's a region that is much less visited than it deserves to be. It has large rural areas of great beauty, an interesting heritage and a rich history. There is much to be discovered and enjoyed, and plenty of paranormal presences too.
Brighton book: This book offers a choice of eight different walks which explore not only the famous Lanes and Pavilion area, but other less well known parts of the City.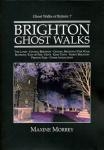 SPR Review:
Country Books of Bakewell, Derbyshire, is a small publishing company with a varied list.  One of its categories is Ghost Walks of Britain, a series of guides which do precisely what they say on the cover.  Seven titles have been published so far, nearly all written by Jill Armitage and covering the Derbyshire area.   These are: Bakewell, Chesterfield, Eyam, Cromford, the Peak District, Ashover, and the odd one out, Brighton.
The books follow the same format, describing pleasant walks that show the reader spooky points of interest along the way.  This is a useful method as the reader can choose a walk of suitable length and follow the author's directions, whereas with many gazetteers the contents are arranged alphabetically, which may mean skipping through different pages to find the bits relevant to where one happens to be.
The walks in the samples I examined vary in length, but none seems unduly demanding, and the Derbyshire books include maps to supplement the step-by-step instructions.  Total mileage for each walk is included in the Derbyshire books (the Brighton one gives timings instead, which presupposes a standard pace).  Sections of routes that might present a difficulty to the less able are highlighted.  All of the books are well illustrated.
The Brighton title, by Maxine Morrey, is of particular interest to SPR members as there are several references to the Society (though she relies heavily on SPR Council member Alan Murdie's 2006 book for Tempus, Haunted Brighton, which has more detail).  One is the 1948 SPR report of Mrs F Priestley's strange experiences which, with various other Brighton cases, can be found in the SPR's archives.  Another reference to the SPR is in connection with 'Miss X' (Ada Goodrich-Freer)'s Preston Park Manor séance in 1896.  The Old Ship Hotel, where the SPR held its annual conference in 1997, also features.
The SPR's most famous link with Brighton is of course Edmund Gurney's death at the Royal Albion Hotel during the night of 22/23 June 1888.  Refreshingly, Morrey does not refer to Trevor Hall's speculations on the reason for Gurney's presence in Brighton, but, like Murdie, attributes Gurney's presence in Brighton to the investigation of a haunted house (in Prestonville Road – Gurney's secretary, and later film pioneer, George Albert Smith and his wife Laura living there between August 1888 and September 1889).
As Brighton is fairly compact, the walks are short, and the author has expanded the text to cover other places in the vicinity.  Unusually for a book of this type (including the Derbyshire volumes in the series), there is an index.  It is not the most comprehensive book on Brighton ghosts, a city well served by paranormal guides, but it is still a useful one.
This is a series which could be extended to other parts of the country, and it is to be hoped that writers with knowledge of the paranormal elsewhere will pitch ideas to Country Books.  A minor drawback of the format is that it is not suitable for recent case reports where the householders have requested anonymity.  These can be included in other types of guide with names and locations removed, but in the form of a walk it might still be possible to identify the individuals concerned.
A more general concern is that, with so many publishers developing lists of regional paranormal guides and a limited number of authors qualified to write for them, there will be a temptation to recycle material – both one's own and others' – for different outlets.  However, this is likely to be more of an issue for residents who want a comprehensive library covering their place of residence than it is for visitors who are probably only going to pick one book to carry with them as they stroll about.
Reference Information:
Country Books can be found at: http://www.countrybooks.biz/