From the publisher's website: Haunted Lambeth is a collection of real-life stories of apparitions and poltergeists from all across the London borough of Lambeth. Included are the ghost stories of Lambeth Palace, the terrifying tradition of the 'Tomb of the Tradescants', a ghost at The Old Vic Theatre, the dream house that haunted the entertainer Roy Hudd, supernatural echoes of Waterloo's Necropolis Railway, the ghosts of Ruth Ellis and others at Streatham's Caesar's Nightclub. These stories have been collected and researched over many years, and come from a variety of sources including original newspaper articles, books and, as often as possible, personal communication with people directly involved.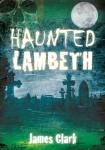 SPR Review:
James Clark has previously written books on haunted London, Wandsworth and Mitcham.  Now he turns his attention to the borough of my birth, Lambeth, an area of huge variety.  To assist the visitor there is an outline map of the borough at the front, all of the twenty-four locations of the cases numbered to allow cross-referencing with the accounts.
The text is divided into sections which follow the old village structure, covering sites around Brixton, Clapham, North Lambeth, Norwood, Stockwell and Streatham.  Each section is prefaced by a larger-scale portion of the map, again with the sites numbered, to enable easy location.  The book concludes with an extensive listing of sources for each case, allowing the interested reader to follow them up.
There is plenty here, of varying degrees of plausibility, to excite the paranormal enthusiast.  We get off to a good start with the 1977 'Margate Road Horror', likened by Clark to the better-known Amityville Horror, only this one was in Brixton, and while suicide and dabbling in black magic were suggested as causes for the phenomena, murder was not.  There was though personality change and a rather exciting exorcism.
We run through the usual range of ghosts, unexplained noises, poltergeists, a black dog (name-checking the SPR), a lift possessing both a mind of its own and a propensity to malfunction, a phantom hansom cab, a time slip and Elliot O'Donnell's story of a whistling stone on Clapham Common (clearly if it had had an agent it could have had quite a career).
Lambeth Palace has a long section, as do the site of the old Necropolis Railway Company terminus in Westminster Bridge Road, the Old Vic, a phantom nun near Streatham Common, the famous 1772 Stockwell poltergeist and a curious 1951 case in a council house in Norwood which showed poltergeist symptoms against a typical background of young people of both sexes crammed in an overcrowded house.
The old Locarno (the Cat's Whiskers when I went to school in Streatham, Caesars in its final manifestation) is given extensive coverage, a lengthy digression charting the tragic life of Ruth Ellis, though as much of the 'information' about ghosts at the dance hall was gleaned during a Most Haunted 'investigation', utilising the talents of Derek Acorah, the reader may decide to skip this one; Clark counsels caution when assessing the evidential value of the television programme, though as he points out, there had been reports of strange occurrences prior to the Most Haunted visit.
We hear how entertainer Roy Hudd had a peculiar recurring dream that eventually led him to a house Dan Leno had lived in, and subsequently to a passionate interest in Leno and music hall generally (on which he is an expert).  A rare UK appearance of a demon in England was reported in Clapham by the South London Press in 1994, though how the determination that it was a demon was arrived at is not stated.  Even stranger, the "demon" looked like Elvis Presley.  Weird as that was, even weirder was the vision of a "five-month-old foetus hovering in the kitchen."   Blessings by clergymen calmed things down, whatever they really were.
Clark begins with the statement that Lambeth is an "odd place", and he tells no lie.   Some of his tales may be suspect to put it mildly, as he concedes, but he points out that at the very least they shine a light on Lambeth's "mythological landscape."  They are also fun to read, and you never know, they may shine a light on something more.
Reference Information:
Haunted Lambeth. The History Press, February 2013. ISBN: 9780752485775