From the author: The producer of the CD and booklet author, Gerald O'Hara, discovered three rare recordings whilst researching the Edinburgh College of Parapsychology's history in 2006. One proved to be a Helen Duncan séance recorded at the College in December 1937. This is not only pre-war and therefore pre-recording tape, it is the only known recording of a séance given by the famous medium. The second recording, of Ernest Oaten, is of a broadcast given on the BBC in April 1934. This is also very rare and is probably one of the finest statements of the theory and practice of Spiritualism as a religion ever made. The third piece, by Harry Edwards, dates from the mid-to-late 1960s and is an equally succinct statement of healing practice. The author and producer has brought the three recordings together to provide a unique snapshot of the Spiritualist movement at its best.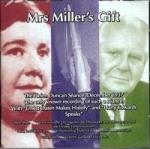 Reference Information:
Includes 24-page booklet. Available from 62 Nunnery Lane, YORK YO23 1AJ, £9.99 +£2 p&p. Enquiries to cargillohara@talk21.com.