From the publisher's website: The fascinating history of ghosts and the search to prove they exist.
'Is there anybody out there?' No matter how rationally we order our lives, few of us are completely immune to the suggestion of the uncanny and the fear of the dark. The subject of whether ghosts exist has fascinated some of the finest minds in history and it remains a subject of overwhelming interest today.

This is the first comprehensive, authoritative and readable history of the evolution of the ghost in the west, examining, as every good natural history should, the behaviour of the subject in its preferred environment. What did the haunted see? What did they believe? What happened next? Taking us through the famous hauntings that have obsessed the world, from the poltergeist of Cock Lane and the dark events of Borley Rectory right up to the present day, Roger Clarke unfolds a colourful story of charlatans and true believers. His surprising castlist ranges from Samuel Johnson to John Wesley, and from Harry Houdini to Adolf Hitler, and his chapters cover everything from the technology of ghost-hunting to the emergence of the Victorian ghost flash mob. Written as grippingly as the best ghost fiction, A Natural History of Ghosts takes us on a unforgettable hunt through the haunted houses of the last three hundred years.
Roger Clarke is a journalist and film critic who has written for the Big Issue, the Observer and Sunday Times. Brought up in a haunted house, he was the youngest person ever to be invited to join the Ghost Society. His stories were published in the Fontana Book of Ghost Stories when he was just fifteen. This is the book he has always wanted to write.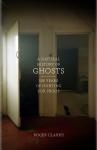 Reference Information:
A Natural History of Ghosts. Particular Books, November 2012. ISBN-13: 978-1846143335