From the publisher's website: Some three years after the Society for Psychical Research (SPR) was founded in London in 1882, Leonora Piper, a young Boston, Massachusetts housewife, was "discovered" by William James, a pioneering psychologist, of Harvard University.  Messages were delivered through Mrs. Piper that seemed to be coming from spirits of the dead.  Soon after the discovery of Mrs. Piper, the American branch of the SPR (ASPR) was formed under the guidance of Professor James, and its primary task became the study of her mediumship, although it undertook the investigation of other mediums and paranormal phenomena, as well.
A number of other reputable scientists and scholars studied Mrs. Piper for a quarter of a century.  Unfortunately, because of the resistance of mainstream science on one end and orthodox religion on the other, the latter seeing communication with spirits as demonic, the research has been, for the most part, filed away in dust-covered cabinets and written off by many as outdated.  Skeptics deride it as the product of hallucination and delusion and conclude that Mrs. Piper was just another charlatan, one clever enough to dupe many intelligent men and women in hundreds of observations over some 25 years.
As the researchers came to understand, spirits face many obstacles in communicating with the earth realm and thus their messages are often fragmentary, confusing, distorted, meaningless, and wrong.  Professor James called it the "bosh" material, seeing it as one major reason why Mrs. Piper's mediumship was not more widely accepted.  In this book, author Michael Tymn filters out much of the bosh, permitting the reader to better appreciate the genuine communication.  He explores the various interpretations, other than fraud, considered by the researchers.  He approaches the subject as a lawyer arguing for the reality of spirit communication.  He believes that those who carefully study the research and take the time to understand it will likely see Leonora Piper as the "white crow" that William James proclaimed her to be – the one who proved that all crows are not black, the one who gave science some very intriguing evidence that, under certain conditions, the "dead" can communicate with us.
A sample chapter can be found on the White Crow Books website:
http://whitecrowbooks.com/books/sample/resurrecting_leonora_piper_how_science_discovered_the_afterlife
Michael Tymn discusses the book:
http://whitecrowbooks.com/michaeltymn/entry/an_interview_with_the_author_of_resurrecting_leonora_piper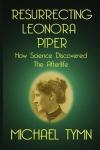 Reference Information:
Resurrecting Leonora Piper. White Crow Books, January 2013. ISBN-13: 978-1908733726