New Books and Media
Strange, but True: More Stories of Curious Encounters, by Chris Aspin
Publication Details:
Helmshore Local History Society
Publish Date:
December, 2016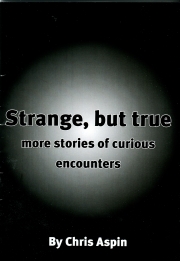 This third booklet by SPR member Chris Aspin contains further accounts from the Helmshore area of east Lancashire.
Okkultismus im Gehäuse. Institutionalisierungen der Parapsychologie im 20. Jahrhundert im internationalen Vergleich, edited by Anna Lux and Sylvia Paletschek
Publication Details:
De Gruyter, ISBN: 9783110466638
Publish Date:
November, 2016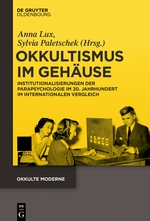 From the publisher's website: Where was the locus of parapsychology – the academic involvement with the occult – during the 20th century? In this first attempt at an international comparison, the authors examine various institutional venues, including private salons, academic societies, and universities, while also addressing prominent opponents. Essays on practical applications of parapsychology and cinematic presentations supplement their findings.
Disappearing Object Phenomenon: An Investigation, by Tony Jinks
Publication Details:
McFarland, ISBN: 978-0786498604.
Publish Date:
September, 2016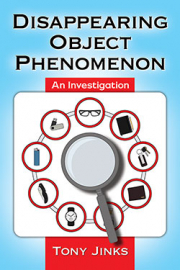 From the publisher's website: Have you ever had your car keys or television remote control inexplicably vanish from under your nose, only to reappear months later in another part of the house for no evident reason? Most would dismiss it as absent-mindedness, with perhaps a joking remark about paranormal activity. Yet remarkable circumstances surrounding many such accounts suggest that the mysterious disappearance of objects could be more than "just one of those things." Examining a large selection of fascinating narratives, this book reviews the "disappearing object phenomenon" (DOP) from a scientific standpoint. Both skeptical and supportive perspectives on DOP are considered, leading to the conclusion that disappearing, appearing and reappearing objects are indicators of a controversial take on the nature of reality.
Portraits from Beyond: The Mediumship of the Bangs Sisters, by N. Riley Heagerty
Publication Details:
White Crow Books, ISBN 978-1-910121-65-8
Publish Date:
September, 2016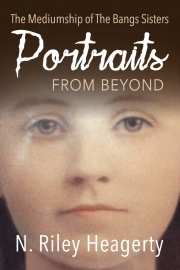 From the publisher's website: Within the little known 'Century of Wonders' between 1848 and 1948 in America, the physical phenomena manifesting in the séance rooms of the great psychic mediums baffles description. Two of its most famous mediums and yet, most vilified by the conjurers and critics of that day, were the Bangs Sisters, May and Elizabeth, of Chicago.
In their presence spirits of the departed would manifest and precipitate directly on to a blank canvas in front of the astonished witnesses and, equally wondrous, spirit writing would manifest directly on to blank sheets of paper or slates.
The present work, by author and researcher N. Riley Heagerty, explores through rare source material and eyewitness accounts by people of unimpeachable character, the seemingly " miraculous " phenomena that was produced. In a fair and balanced manner, the writer also takes a close look at the most heated and public charges of fraud brought against these Chicago wonder workers.
This in depth, complete work, the first of its kind, unravels the truth of the great psychic mystery of the Bangs Sisters.

About the author
N. Riley Heagerty, has been involved non-stop in research involving Spiritualism and Physical Mediumship since 1985. 
He has, up to the present day, collected and read more than 600 books - mostly rare, on the subject, and has lectured extensively in England and America.  His first published book, The French Revelation, dealt exclusively with the Independent Voice mediumship of Mrs. Emily S. French, of Rochester, New York. 
Mr. Heagerty, considered one of the leading authorities on American Physical Mediumship in the United States has said, "The research of Mediumship and Spirit Communication is just as exciting and enthralling to me in the present day as it was during the first days of my research. It is an ongoing adventure that will never cease.  The subject is vast, marvelous and contains, in this researchers opinion, the most important truths we could ever know.  The heyday of Spiritualism, what I have termed the 'Century of Wonders,' existed between 1848 & 1948. Mrs. French along with May and Elizabeth Bangs are just three of the many that demonstrated their wondrous gifts within this time period and I am honored to write about them. "
Further information, and samples of the book, can be found on the publisher's website.
Ted Serios - Serien, edited by Romeo Grünfelder
Publication Details:
Textem Verlag, ISBN: 978-3941613461
Publish Date:
September, 2016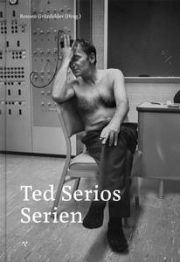 From the publisher's website: In the 1960s, Chicago resident Ted Serios became notorious for the production of nensha on Polaroid film supposedly using only his psychic powers. His abilities were endorsed by Jule Eisenbud, a Denver-based psychiatrist who wrote a book lauding Serios' talents called The World of Ted Serios: "Thoughtographic" studies of an extraordinary mind. Serios' images, which often appeared surrounded by dark areas on the film, were often of typical postcard scenes. Serios eventually was only able to produce his photographs while holding "the gismo" to his forehead. This device has been described as a "short part of a Cylinder, formed from a single piece of photographic paper."
As Eisenbud's book readily admits, many of Serios' thoughtographs were produced while Serios was drunk or drinking alcohol. According to Eisenbud, "Ted Serios exhibits a behavior pathology with many character disorders. He does not abide by the laws and customs of our society. He ignores social amenities and has been arrested many times. His psychopathic and sociopathic personality manifests itself in many other ways. He does not exhibit selfcontrol and will blubber, wail and bang his head on the floor when things are not going his way."
Most of Serios's feats were dismissed as a simple hoax by most educated people. Eisenbud's faith in Serios was extreme, and even as late as the 1980s, Eisenbud claimed that previously unidentified thoughtographs were images of Ganymede, a moon of Jupiter. Pictures of Ganymede had only become available a year before thanks to Voyager 2. "Unfortunately," wrote Eisenbud, "I couldn't get an astronomer or optical scientist to agree." Since 1967 Teds ability to produce inexplicable structures on Polaroid vanishes more and more.
Ted Serios died at 30 December 2006 at the age of 88 years due to cancer. The publication Ted Serios - Serien comprises the first time unknown sequences of the extensive collection of Jule Eisenbuds investigation. 
Further information here: Textem Verlag. 
The Mysterious Paths of Versailles An Investigation of a Psychical Journey Back in Time, by Mark Lamont
Publication Details:
Xlibris, ISBN: 9781524592967
Publish Date:
September, 2016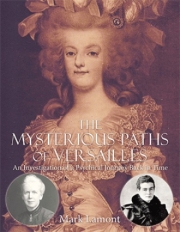 On August 10, 1901, two English ladies spending part of their summer together in France decided to visit the Palace of Versailles for what was anticipated to be an ordinary day of sightseeing. However, on that fateful day, the women later believed a series of mysterious encounters had occurred, the results of which have lingered through to the present day. When one of the ladies suggested a visit to Queen Marie Antoinette's Petit Trianon, both were later convinced they had stepped back in time to witness people and scenery from the eighteenth century. One of the ladies even believed she had witnessed the queen herself! Were the ladies' encounters simply a case of mistaken identity and confusion as a result of venturing into an unfamiliar environment? How well do their testimonies support the integrity of such an occurrence? Alternatively, did the women unknowingly step back in time to walk along paths from a bygone era at Versailles?
A short YouTube film advertising the book is here
Dreaming Wide Awake: Lucid Dreaming, Shamanic Healing, and Psychedelics, by David Jay Brown
Publication Details:
Park Street Press, ISBN: 978-1620554890.
Publish Date:
August, 2016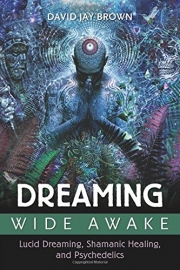 From the publisher's website:
With development and practice, lucid dreaming can provide a powerful path to greater awareness, heightened creativity and spiritual awakening. Author David Jay Brown draws on his interactions with experts such as Stanley Krippner, Rupert Sheldrake, Terence McKenna, and others to explore the relationship between lucid dreaming, shamanic journeying, visionary plants, and psychedelic drugs.
A detailed guide to mastering lucid dreaming for physical and emotional healing, enhanced creativity, and spiritual awakening
• Offers methods to improve lucid dreaming abilities and techniques for developing superpowers in the dream realm
• Explains how to enhance dreaming with supplements, herbs, and psychedelics
• Explores the ability of lucid dreamers to communicate with the waking realm and the potential for shared lucid dreaming and access to our unconscious minds
In a lucid dream, you "awaken" within your dream and realize you are dreaming. With this extraordinary sense of awakening comes a clear perception of the continuity of self between waking and sleeping and the ability to significantly influence what happens within the dream, giving you the opportunity to genuinely experience anything without physical or social consequences. In this way, lucid dreaming offers therapeutic opportunities for fantasy fulfillment, fear confrontation, and releasing the trauma of past experiences. With development and practice, lucid dreaming can provide a powerful path to greater awareness, heightened creativity, spiritual awakening, and communication with the vast interconnected web of cosmic consciousness.
In this detailed guide to mastering the practice of lucid dreaming, David Jay Brown draws from his more than 20 years' experience using these techniques and his interactions with dozens of experts on consciousness, physics, dreaming, and entheogens, such as Stanley Krippner, Rupert Sheldrake, Stephen LaBerge, Robert Waggoner, Dean Radin, Terence McKenna, and many others. He explores the intimate relationship between lucid dreaming, shamanic journeying, visionary plants, and psychedelic drugs and how they are used for healing and spiritual development. Offering methods for improving both lucid dreaming and shamanic journeying abilities, he explains how to enhance dreaming with oneirogens, supplements, herbs, and psychedelics and offers techniques for developing superpowers in the dream realm.
Summarizing the scientific research on lucid dreaming, Brown explores the ability of lucid dreamers to communicate with people in the waking realm and the potential for dream telepathy, shared lucid dreaming, and access to the vast unconscious regions of our minds, opening up a path that takes us beyond dreaming and waking to dreaming wide awake.
Ghost Hunting, A Practical Guide: The New Edition, edited by Andrew Green and Alan Murdie
Publication Details:
Arima Publishing, ISBN-13: 978-1845496876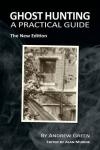 From the publisher's website: Ghost Hunting – A Practical Guide is the book which every ghost hunter should read. First published in 1973, it was the first book in the world to explain how to go about ghost hunting. It has now been updated for the 21st century by Alan Murdie, Chairman of the Ghost Club.
Explaining the background to serious paranormal research, it covers equipment for the ghost hunter; how to examine a haunted house; investigating the surroundings and history of a site; how to interview people who have experienced ghosts; and how to eliminate the many natural causes – some of them highly unexpected – which can lead people to believe they are being haunted. Importantly, this book does not just emphasise the role of equipment, but also the appropriate mental attitude needed by the serious investigator.
Complete with an extensive reading list and guidance on temperature readings, both the newcomer and the experienced ghost hunter will benefit from the advice and information contained in this classic book.
Andrew Green began hunting ghosts in war-time London in 1944. From the 1970s to until his death in 2004, he actively promoted the scientific investigation of haunted properties and people, publicising many of the techniques routinely used by ghost hunters today. A respected lecturer, he published 17 books on hauntings and saw at least two ghosts himself.
Alan Murdie is a lawyer and psychical researcher. He has investigated numerous cases of ghosts and hauntings in Britain and abroad. He is Chairman of the Ghost Club (founded 1862) and a council member of the Society for Psychical Research.
Ghostly Encounters: The Hauntings of Everyday Life, by Dennis Waskul with Michele Waskul
Publication Details:
Temple University Press, ISBN: 978-1439912898.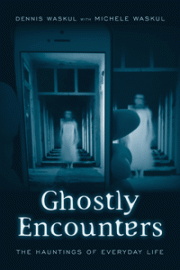 From the publisher's website:
In the top corner of the window a pale, milky-white wisp is rising almost to the top of our ten-foot ceiling.... I am startled but not afraid....Mostly, I am engrossed; I have never seen anything like this before (or since) and it fascinates me.
Dennis Waskul writes these lines—about his first-hand experience with the supernatural—in the introduction to his beguiling book Ghostly Encounters. Based on two years of fieldwork and interviews with 71 midwestern Americans, the Waskuls' book is a reflexive ethnography that examines how people experience ghosts and hauntings in everyday life. The authors explore how uncanny happenings become ghosts, and the reasons people struggle with or against a will to believe. They present the variety and character of hauntings and ghostly encounters, outcomes of people telling haunted legends, and the nested consequences of ghostly experiences.
Through these stories, Ghostly Encounters seeks to understand the persistence of uncanny experiences and beliefs in ghosts in an age of reason, science, education, and technology—as well as how those beliefs and experiences both reflect and serve important social and cultural functions.
About the Authors:
Dennis Waskul is a Professor of Sociology and Distinguished Faculty Scholar at Minnesota State University Mankato, and has served as president of the Society for the Study of Symbolic Interaction. He has authored or co-authored several books including Body/Embodiment: Symbolic Interaction and the Sociology of the Body (with Phillip Vannini), The Senses in Self, Culture, and Society (with Phillip Vannini and Simon Gottschalk), and Popular Culture as Everyday Life (with Phillip Vannini).
Michele Waskul is an independent scholar with a focus on special education.
True Ghosts and Ghouls of Windsor & Eton, by Brian Langston
Publication Details:
Halsgrove, ISBN-13: 978-0857042897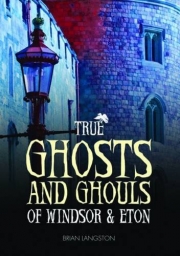 From the publisher's website: Meticulously researched by former Windsor police chief-turned-paranormal sleuth Brian Langston, True Ghosts and Ghouls of Windsor & Eton presents an unparalleled investigation into the myriad of macabre and spectral entities which have haunted Windsor & Eton for countless generations.
Spanning the centuries up to the present day, this supernatural guidebook chronicles over 200 true tales of hauntings, demon possession, witchcraft and wickedness, many making their first appearance in print. Who was the monstrous 'Vampire' who plagued Georgian Windsor and craved human flesh? Is Eton home to the only church in England to have been closed by the malevolent actions of the Devil? What was the wolf-like beast seen emerging from the Thames twice by police officers during the late twentieth century? What were the nocturnal horrors which caused terrified sentries to desert their post at Windsor Castle? What was the 'Spring Heeled Jack' of Spital graveyard which preyed on Victorian ladies? What gruesome fate befell the bloated corpse of HenryVIII and does his ghost still stalk Windsor Castle? How did the neck bone of Charles I end up on a Doctor's dining table in Mayfair? Which famous Eton Schoolboy killed a bully with black magic and took his secret to the grave? Did Queen Victoria secretly commune with the spirit of her beloved Albert and was it her ghost which terrified Castle workers during the 1930s? Did the ghost of Herne the Hunter kill a 'Teddy boy' in the 1950s?
In this diabolical dossier, the author unearths the fascinating and spine-tingling occult history of Windsor and Eton. Mystery, bloodshed and fear are never far away in this chilling perambulation through the ancient streets of Britain's most haunted borough.
Ghost Club member and author Brian Langston is the former Assistant Chief Constable for Thames Valley Police. He lived and worked in Berkshire for over a quarter of a century and for many years was the police chief for Windsor & Eton. Since retirement he has drawn upon his extensive investigative experience to conduct research into mysteries and paranormal phenomena. He currently lives in the Languedoc region of Southern France with his wife Jenny and a large family of adopted cats, where he writes and compulsively haunts fleamarkets, adding to his collection of curious and macabre artefacts.
Brian Langston's website can be found here:
Demystifying the Out-of-Body Experience: A Practical Manual for Exploration and Personal Evolution, by Luis Minero
Publication Details:
Llewellyn Publications,ISBN-13: 978-0738730790
Publish Date:
April, 2016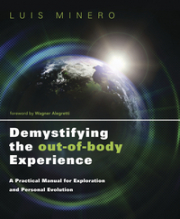 From the publisher's website: Master the skills of leaving the body using logic and reason. Improve self-understanding and achieve personal growth with over a dozen exit techniques. With well-ordered, rational explanations,Demystifying the Out-of-Body Experience describes how and why OBEs work. This is a groundbreaking guide for using OBEs to understand your place in the worlds that exist beyond our daily lives.
Meet spiritual guides, loved ones who have crossed over, and even other out-of-body travellers who want to help you understand who you are and why you are here. Learn communication techniques and memory aids to get the most out of each experience, in addition to tips for creating a program of OBE mastery. Contrary to popular belief, many people have come back from "the other side" and shared their experiences. And now, you can be part of this life-changing exploration.
Perfect for beginners and experienced seekers who want to learn about the non-physical planes in a non-mystical context and want to evolve the condition of their soul. This practical workbook for spiritual transformation is based on the research of the International Academy of Consciousness.
Eusapia Paladino: Materialisations and Intellergetic Phenomena in Physical Mediumship, by Scott Dickerson
Publication Details:
CreateSpace ISBN:9781530915859
Publish Date:
April, 2016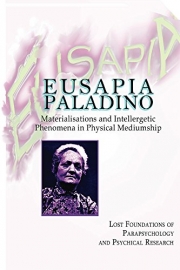 From the publisher's website: The golden age of psychical research produced no greater experimental superstar than the Italian peasant Eusapia Paladino, whose purported physical phenomena--movement of distant objects, levitations, materialisations of human forms--were studied in controlled settings (in the light!) by eminent scientists throughout Europe in the late 19th and early 20th centuries. She was caught in crude trickery; but even renowned magician Howard Thurston came away convinced that her more spectacular results were beyond human power. This volume collects contemporaneous experimental reports, personal memoirs, eyewitness accounts, discussion of the premises of "spirit mediumship," and criticism by skeptics of the era, including members of the British Society for Psychical Research.
LOST FOUNDATIONS OF PARAPSYCHOLOGY AND PSYCHICAL RESEARCH endeavors to provide the interested public with authoritative investigative accounts from the period of research prior to the rise of the statistical approach to parapsychology championed by J.B. Rhine, coming to prominence in the later 1930's.